Average Reading time: 7 minutes, 9 seconds
---
Now that Mark Zuckerberg no longer has to visit the US Congress every week and we are all still using Facebook, we thought it would be good to tell you more about Facebook Campaigns. Because although advertising via the world's largest social platform may not be new; due to changes, advertising with impact remains a challenge. A challenge that we are happy to help you with at scopeweb.
Facebook Campaigns: Tool, not a goal
What Facebook Campaigns are, we don't have to explain to you, if you breathe you've seen an advertisement on Facebook. Still we find it interesting to tell you a bit more about what Facebook Campaigns are able to achieve for all of us.
Because, advertising on Facebook is not that difficult at all. Anyone can do it, and you certainly won't need a tech background. Some of the basics aren't that interesting, and we've skipped those. Simply promoting a message is like sprinkling salt from a helicopter and hoping that you can flavor your fries at home. And of course; you may dream, but we prefer a structured approach.
"Promoting a message via Facebook is like sprinkling salt from a helicopter."
For us, Facebook Campaigns are the best way to achieve success when you target consumers and SMBs. They support (and that is important to consider) your marketing activities and the goals you want to achieve.
It is therefore important to use Facebook Campaigns as a tool and not as a goal.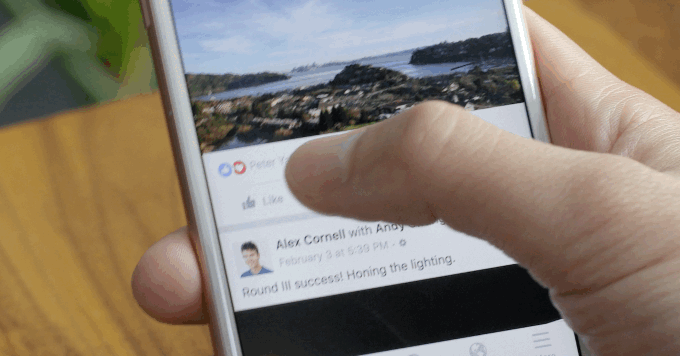 Successful Facebook Campaigns
You might not only get a successful marketing effort through Facebook, but Facebook Campaigns make it very easy to make a good impact. Provided you approach it the right way.
Ehh... ok.. so how do you approach it the right way?
Know what you want — Totally hip nowadays, roaming the world (right, digital nomads?!), but not really practical for our purposes. How can you know if you ever achieved something if you don't know what it is?
Goals and target groups — Facebook knows your users better than they know themselves. A bit scary, but handy. Because if you decide who you want to reach, Facebook will help you find those people.
Set up a campaign — Only now that you know what you want and who you want to reach, you will discover how you can use Facebook Campaigns as a tool.
And you're immediately stuck again. Now you can start a campaign, but what works best for your purposes? Do you need to promote or advertise? And in which way do you advertise best?
Great questions!
Promote or advertise?
The easiest option you have is to promote your message. Quickly set up, quickly visible ... quick results? Not always. Promotion actually works especially well if you want to bring something to the attention of your existing fans. Through a promotion your message reaches more of your fans on their timeline, but do you want to reach new people? Then your message must be very shareable, and must be shared by all your followers.
This is when advertising becomes a considerably smarter choice.
First, you must have an Advertising account to get started, after which you follow the steps down below:
Step 1: First choose your campaign goal (campaign):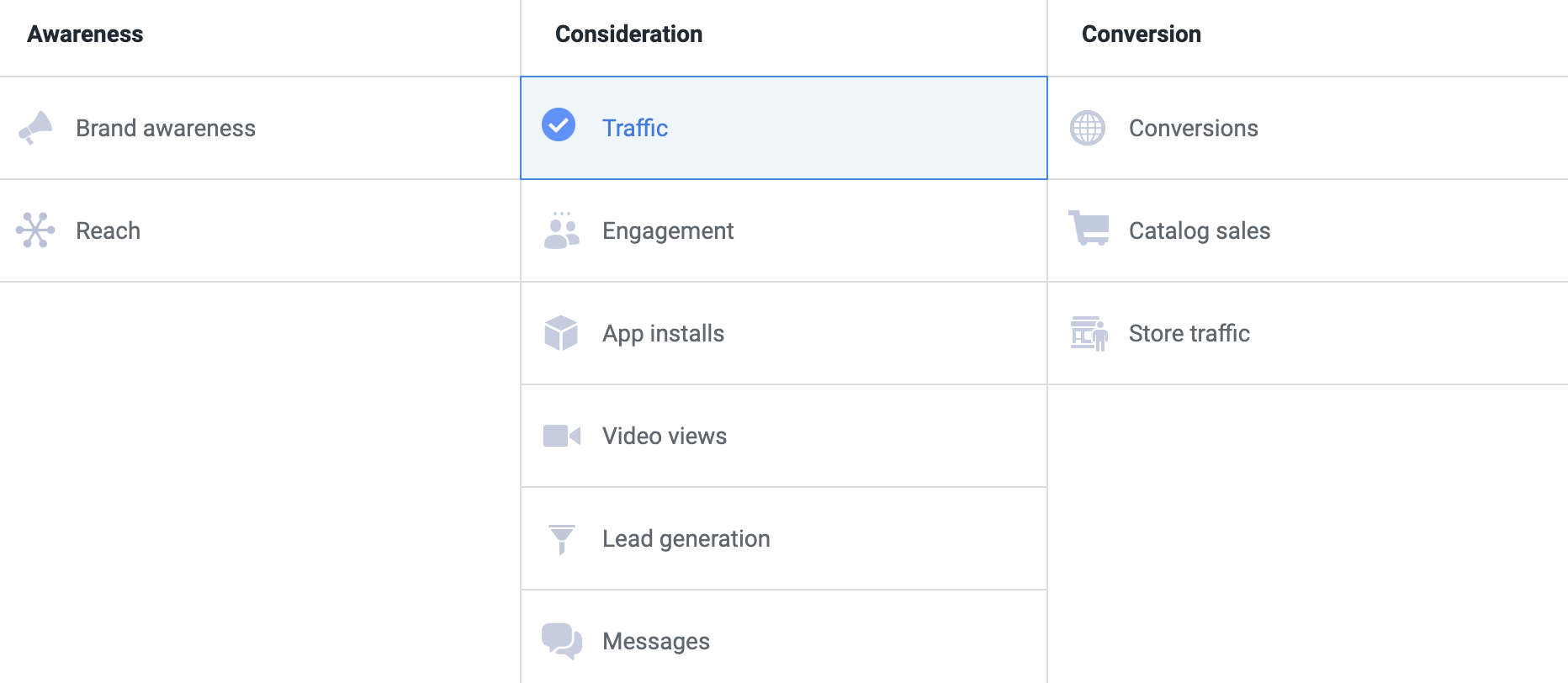 Brand awareness — Reach people who are more likely to notice your ads and raise your brand awareness.
Reach — Show your advertisement to as many people as possible.
Traffic — Send more people to a destination on Facebook or beyond, such as a website, app or Messenger conversation.
Engagement — Make sure that more people see your message or page and respond to it. Involvement includes comments, share promotions, likes, responses to events, and claimed offers.
App installs — Send people to the App Store to download your app.
Video views — Promote videos with behind-the-scenes images, product launches or customer stories to make your brand better known.
Lead generation — Collect lead information from people who are interested in your company.
Messages — Get more people to start conversations with your company through Messenger to complete purchases, get answers to questions, or get help.
Conversions — Ensure that people perform a valuable promotion on your website, in your app or in Messenger, such as adding their payment details or making a purchase. Use the Facebook pixel or app events to track and measure conversions.
Catalog sales — Create ads that automatically display items from your catalog based on your audience.
Store traffic — Promote multiple business locations to people in the area.
Step 2: Set up your advertisement set:
Target audiences
With the advertisement set you choose your target group. You can target by location, age, gender, language. In addition, you can choose a target group that meets certain demographic information (education, work, household, etc.), interests or behavior. You can also target people who have a certain connection to your page, for example. Making your target group retargeting and look-a-likes is also an option. For target groups based on website data you need to install a Facebook pixel on the website.
The target group targeting consists of many options, so it's important to think about this before you start the campaign.
Placements
With placements you determine where the advertisement can be displayed. This is on Facebook, Instagram, Audience network (websites and apps outside of Facebook where you can display your ads). These channels are also further specified. For example, you have a choice from the Facebook overview, but also the right-hand column, in-stream videos, etc.
Budget and planning
It is also important to choose a suitable budget. You can use this budget per day or over a term. In addition, you sometimes have the option to pay per click or per view, etc.
Is your business branding strong enough?
Follow multiple enterprise-level organizations and squeeze the most out of your possibilities. Work with branding & design experts who will push hard to understand your business and take you to the next level.
You can also determine how you want the ads to be displayed based on what you are trying to achieve, for example, as much involvement as possible in your message, as many views as possible and unique reach per day.
With a duration budget you can indicate which days and times the advertisement should be displayed.
Step 3: create advertisements
As a final step you create your actual advertisement (s). In this step you determine on which Facebook page and/or Instagram account your advertisements should be displayed. You can also often choose from the ad formats:
Carousel (Recommended image format: 1080 × 1080 pixels).
Image (Recommended image size: 1,200 x 628 pixels, little text).
Video (Recommended length: up to 15 seconds maximum).
Slide show (maximum 15 seconds).
Collection (Based on a template).

Furthermore, when creating the advertisement, you determine what it will look like. You determine a text, the impetus for action, image and/or videos. You may also add a website link. With website links it is important to measure these properly by means of a utm code (url parameter).
After setting all these options, the campaign can be started. By properly organizing the campaign and creating multiple variants you can test a/b and learn a lot from the statistics. With these statistics you can optimize the campaign again.
Open the campaign
And now it's time to throw your Facebook Campaign online and see it go successfully. You can already see the likes, shares and clicks coming in ... or? Although we have tried to explain briefly and forcefully how you can use Facebook Campaigns, we understand that sometimes it does not immediately produce gold.
Continue to try to set sharper goals, to segment even better and to really engage with your fans or new customers.
Do you want some help? We are happy to discuss it with you. Contact Dimitry for more information.
Kick start your business
As one of New York City's startup specialists, delivering lean marketing and software development services, scopeweb works with small teams to deliver big results. We help businesses - both startups and established - to use technology to build the next decade of improvements and growth. Send us an email at info@scopeweb.nyc or call us at 570 580 7737. We are also happy to answer any questions you may have!
😍 Loved reading this? Share the love!